Teeji Seat Lyrics by KAKA is the latest Punjabi song. Arrow Soundz composed music, and the lyrics for Punjabi track 'Teeji Seat' are written by Kaka.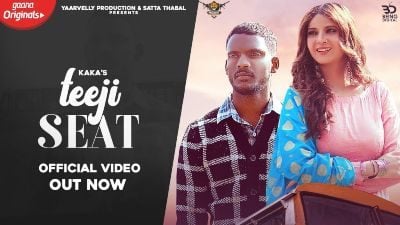 | | |
| --- | --- |
| Title of Song: | Teeji Seat |
| Singer(s): | KAKA |
| Lyrics Writer(s): | KAKA |
| Composer(s): | Arrow Soundz |
TEEJI SEAT PUNJABI SONG LYRICS • KAKA
Bus Wich Baithi Saji Teeji Seat Te,
Geet Mera Chale Teri Heartbeat Te,
Mere Geet Utte Ne Sharabi Nachde,
Khadki Jande Ne Ni Glass Kach De,
Ho Khadke De Wichon Mainu Saj Sun De,
Sajan Wichon Kan Teri Awaj Sun De,
Teri Awaj wichon Tera Munh Dikhdae Ni,
Tere Muh Nu Dekh Dekh Kaka Geet Likhdae,
Ho Likht Meri De Wich Shift Teri,
Shift Teri Te Ae Grift Meri,
Teriyan Griftan Ch Dil Hai Mera,
Mere Dil wich Ik Ghar Hai Tera,
Tere Ghar Kol Ake Bus Ruk Gi,
Samjhi Na Aithe Meri Gal Muk Gayi,
Jithe Muki Othon Chalugi Repeat Te,
Ni Teri Han Na Da Fark Ni Painda Dheeth Te,
Bus Wich Baithi Saji Teeji Seat Te,
Geet Mera Chale Teri Heartbeat Te,
Arrow Soundz,
Dhup Jadon Tere Chehre Utte Baithdi,
Chehra Tera Janda Meri Rooh Ch Baithda,
Rooh Meri Baithi Tereya Khyalan Ch,
Tera Ta Wajood Lage Khooh Ch Baithda,
Khooh Chon Bahar Aja Jane Meriye,
Aaja Dareyawa Di Karawan Sair Ni,
Dareyan Ton Ocean Da Rah Push Ke,
Galan Kar Beach Te Dubo Ke Pair Ni,
Pair Tere Shoon Giya Lehran AnKe,
Lehran Wich Suraj Dubuga Jan Ke,
Dubde Ton Chadhde Tanhi Gal Krange,
Gal Uljhake Ape Hal Karange,
Hal Hoyi Gal Te Chadha Dai Phul Ni,
Mere Likhe Geetan Nu Shuha Di Bul Ni,
Tere Bulan Te Smile Jyun Masala Meat Te,
Ni Tere Naina wichon 2 Peg Laune Neat De,
Nal Mere Beh Ji Ohdon Khabi Seat Te,
Ohdo Vi Chaluga Geet Heartbeat Te,
Teeji Seat (Punjabi) Music Video
Let's watch the Teeji Seat's captivating music video directed by Sukh D.
Teeji Seat is the recent Punjabi song by KAKA. Arrow Soundz composed the music for Teeji Seat. The lyricist Kaka penned-down the up-to-date lyrics of the Punjabi song. Sukh D directed the music video of 'Teeji Seat', released on February 5, 2021.