Srinagar Waliye Song with its Punjabi lyrics sung by Jaggi Amargarh, Afsana Khan is the latest track that Kamal Dhuri wrote-down. Oye Kunaal composed music for Srinagar Waliye's lyrics.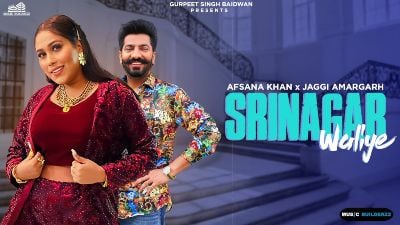 | | |
| --- | --- |
| Title of Song: | Srinagar Waliye |
| Singer(s): | Afsana Khan, Jaggi Amargarh |
| Lyrics Writer(s): | Kamal Dhuri |
| Composer(s): | Oye Kunaal |
SRINAGAR WALIYE PUNJABI SONG LYRICS • AFSANA KHAN • JAGGI AMARGARH
Mildi Na Kiton Nagni,
Na Mildi Daru Ni,
Lamba Je Chaleya Curfew,
Kidan Jatt Sharu Ni,
Gal Sun Srinagar Waliye,
Deja Phul Tod Kudey,
Kardi Aan Tass Tass Nada,
Dukhde Ne Jod Kudey,A
Kardi Aan Tass Tass Nada,
Chandi Di Dabbi Hoi Aa,
Pehli Vari Khali Ni,
Sade Tan Rang Hi Ud Gaye,
Galan Di Lali Ni,
Sade Tan Rang Hi Ud Gaye,
Aiven Na Kar Man Chota,
Rakh Thodi Aas Jatta,
Sada Ae Dc Tere,
Saure Da Khas Jatta,
Aaju Srinagar Ton Laike,
Vip Pass Jatta,
Aaju Srinagar Ton Laike,
Galan Main Mukan Ni Dendi,
Tera Main Mal Jatta,
Tali Tan Dolu Bhar Ke,
Aayun Har Hal Jatta,
Shaukha Tera Dhuri Waleya,
Lang Jana Sal Jatta,
Shaukha Amargarh Waleya,
Kaiyan Nu Radkey,
Teri Meri Yeh Yari Ve,
Chal Aapan Viah Karwaiye,
Chad Duniyadari Ve,
Hun Tan Dadhi Chitti,
Ho Gayi Ae Sari Ve,
Manja Mere Kamal Likhari,
Ho Jaggi Amargarh Wala,
Meri Zindagi Wich Aai,
Ban Mera Luck Kude,
Tere Te Mera Hi Bas,
Mera Ae Haq Kude,
Banju Main Drake Ni Tera,
Tu Meri Duck Kude,
Dova Wich Jehda Aaya,
Dena Main Chak Kude,
Tera Dhanwad Tu Mera,
Kardi Aa Bahli Ni,
Rakhunga Queen Bana Ke,
Paki Hind Pali Ni,
Yelow Mustang Two Seater,
Te Range Ae Kali Ni,
Jaggi Aa Kismat Teri,
Tu Kismat Wali Ni,
Jaggi Ae Kismat Teri,
Jattan Tu Future Mera,
Jattiye Tu Rab Mera Ni,
Sir Ton Pairan Tak Teri,
Jatt Vi Ae Tera Ni,
Haye Tera Te Mera Rishta,
Jeyon Daru Te Gurh Da Ni,
Ho Dekhi Kitte Chad Na Deve,
Peeche Jatt Muda Nai,
Jatt Vi Ae Paka Hind Da,
Srinagar Waliye (Punjabi) Music Video
Enjoy the Srinagar Waliye's charming music video directed by Robby Singh.
Srinagar Waliye Lyric is a just out Punjabi song by Jaggi Amargarh, Afsana Khan. Oye Kunaal produced the music for Srinagar Waliye. The lyrics writer Kamal Dhuri wrote-down the well-liked lyrics of the Punjabi song. Robby Singh directed the music video of 'Srinagar Waliye', released on March 1, 2021.